Download
Others
City.of.Men.AKA.Cidade.dos.Homens.S01-S04.EN.subs.10bit.DVDRip.x265-budgetbits
Description
Externally indexed torrent


If you are the original uploader, contact staff to have it moved to your account
City.of.Men.AKA.Cidade.dos.Homens.S01-S04.EN.subs.10bit.DVDRip.x265-budgetbits
TV series. 6 seasons exist (2002-2018), but S05 and S06 do not have English subtitles. So this release only has 4 seasons (2002-2005)
Spoken languages
Portuguese
Links
Wikipedia -
Link
-----------------------------------------------------------------------------------
GENERAL INFO
Genre
Comedy, Crime, Drama
Plot
A realistic yet humorous look at the lives of Laranjinha and Acerola, two friends who live adventurous and dangerous lives in a Rio de Janeiro slum.
Encoding info
Encoded from DVD remux (City.of.Men.S0[1-2].PAL.DVD.DD.2.0.MPEG-2.REMUX-CBX and City.of.Men.S0[3-4].NTSC.DVD.DD.2.0.MPEG-2.REMUX-CBX) using HandBrake 1.3.3, tweaked slower preset, x265, 10 bit, decomb, nlmeans light, CRF 27 (except S01E04 CRF 26, and S02 CRF 28), sao/strong-intra-smoothing/rect disabled, aq-mode 1.
Duplicate intros in seasons 1 through 3 encoded as standalone files and not included in each episode.
Subtitles burned in.
-----------------------------------------------------------------------------------
POSTER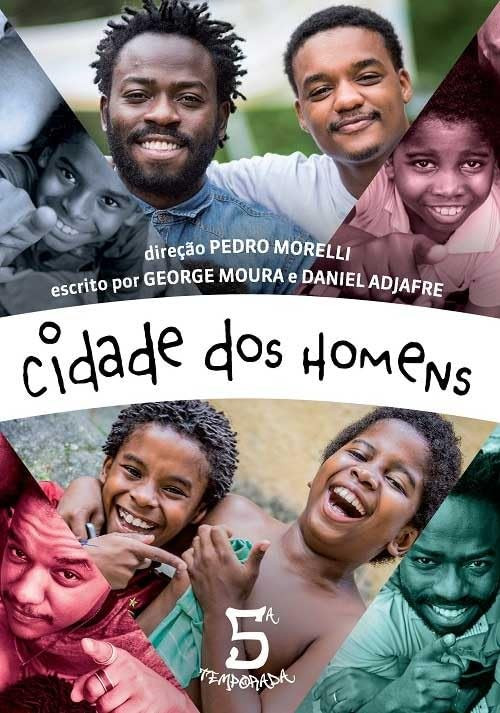 -----------------------------------------------------------------------------------
SCREENSHOTS
(Click to enlarge)
[img]https://shotcan.com/images/city-of-men-series2608619d93a35297.md.webp[/img]
-----------------------------------------------------------------------------------
SAMPLE MEDIAINFO
General
Filename = City.of.Men.S02E01.Saturday.10bit.DVDRip.x265-budgetbits.mkv
Title = City of Men S02E01 Saturday
Duration = 29 min 47 s
Size = 143 MiB
Overall bit rate = 670 kb/s
Video #0
Format = HEVC x265 - 3.2.1 1-b5c86a64bbbe:[Linux][GCC 9.3.0][64 bit] 10bit
Resolution = 702x574
Aspect ratio = 4:3 (1.305)
Bit rate = 595 kb/s
Frame rate = 20.251 FPS
Audio #0
Title = Stereo
Format = Opus
Channels = 2 channels
Bit rate = 70.4 kb/s
Sampling rate = 48.0 kHz
Language = Portuguese